Купить Google ADS Virtual VCC MasterCard For Verification⭐🔥🌎
Моментальная доставка
Гарантии
Открытые отзывы
Стабильная тех. поддержка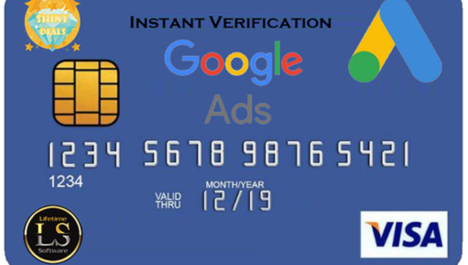 На товар предоставляется скидка постоянным покупателям. Если общая сумма покупок товара больше чем:
This Virtual Credit Card (VCC) can be used for Google AdWords Account. With SUPER VCCs you can enjoy the great benefits of credit cards. AdWord VCC accepts any Name, Billing Address in Europe And It works Properly for USA and CANADA

Secure Billing
As one of the largest PPC platform, Google ads is very popular to the marketers and advertisers. Through Google ads, you can sell your product and service to a lot of people. Google ads ID needs credit card verification to make sure that everything is okay.
A Google virtual credit card from us can help you with the verification payment process.



What we deliver
With a purchase of SUPER VCCs, you will receive the following details:

16-digit VCC Number (40XX-XXXX-XXXX-XXXX)
3-digit Security Code (CVV/CVV2)
VCC Expiration Date (0X/20XX)
This VCC comes preloaded with a balance of $5 which can be used for one-time AdWords account payment verification purposes. This card is not able to reload money for next.
Information About Buy Google Adword VCC
Sufficient balance for verification.
It comes with a date of expiry. You'll have to use it before it expires.
You can use the card for any billing address.
The card is nonrefundable.
You can't reload the card again.
Transactions are safe and secure.
It goes with Google's manual payment profile.
We do it fast. You'll get the card number as soon as you make the payment.

Notice : ❗
All cards are for 24h to use otherwise you will get new one, for more information text me
and some card need 3ds and I will approve them manually just text me and all will be good and works 100% so you have to text seller after buying the card
and all problem will be solved ⭐️
Положительный
Отличный продавец. Всегда на связи. Карта тоже подошла. Всем советую
Положительный
Good seller! Really helps! Good cards! Recommended!
Положительный
wery cool! thank you!
Положительный
Продавец отличный, моментально выходит на связь, решает любые вопросы. Рекомендую)
Положительный
Best seller ever 5/5
Положительный
Good seller, can reccomend
Ответ продавца:
I gave him vcc for Google ads verification as what he bought but he wanted to use it for Discord for payment which cost 4.99$ that is equal as he paid and now left negative feedback Be respectful sir, we are trusted seller